What is Brand Management?
As someone who is focused on business objectives, you may not have full visibility into why brand management is so important to your Marketing team—but we do.
At Inspired Results we focus on, and excel at, helping you accomplish your goals without getting bogged down in the "messy middle" of branding. At Inspired Results, we strike the balance between your operational goals and your marketing team's creative goals.
In our minds, there are two clear book-ends to executing on your brand: creating Brand Identity, and completing On-Brand Projects. Within those book-ends, there is an assortment of activities that require you to maintain the integrity of your brand standards—and we're here to help!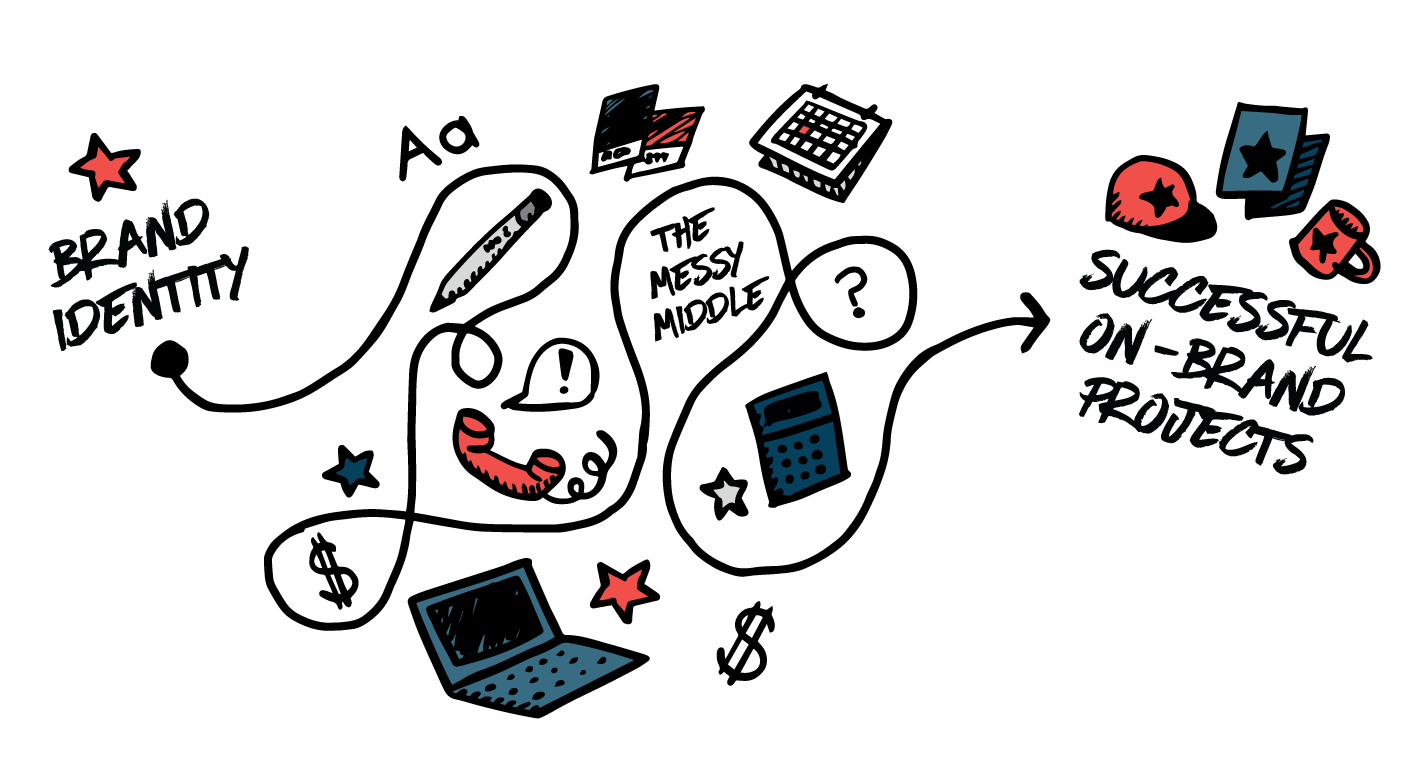 How Inspired Results Partners with You
Inspired Results is the firm you go to:
When you need autonomy to execute print, packaging, or promotional items, and brand consistency is important to your company.
When you need a solution to maintain integrity of your brand across many users – whether that's multiple departments, people, or offices.
We understand how to make you a strong brand ambassador and how to deliver on-brand, every time. We ask questions on your behalf, like:
Is the logo scaled correctly?
Is that the right color value?
Does that vendor understand your paper quality standards?
Is production going to be consistent if we reorder throughout the year?
Solutions-First Thinking
We approach our client partnerships with solutions-first thinking. We believe that to deliver true brand management, it's necessary to think within a comprehensive solutions framework. We have capabilities—many, in fact. But, we've heard from our clients that our best value is seen when we deliver and support them across a variety of activities.
What this Looks Like for You
We combine a mix of capabilities, account service, and technology solutions to manage your brand in the way that works best for you.
Capabilities
These include a range of the common activities you'd expect from a print and/or promotional partner:
Print Management
Packaging & Labels
Branded Promo
Branded Apparel
Corporate Stationery
Direct Mail
Inventory & Distribution
Account Service
Many print and promotional companies are transactional, one-off answers to one-off requests. We prefer to start with our favorite question, "How can we help you meet your goal?"
We bring to the table services that help you better manage your brand, without having over-taxing your staff with more responsibilities.
Kitting & Fulfillment
Manage workflow
Stay ahead of upcoming events
Eyes and ears on the street!
Technology
Business is more and more reliant on technology to smooth out our workflows, streamline resources, and simply make it easier to get work done at the end of the day.
We recognize that there isn't a one-size fits all approach. If the tool isn't used, it isn't helping you—so we start with user needs and then customize a system that solves those needs.
Print Management
Promotion and Apparel Management
Digital Asset Management
Reporting
Inventory Management
---
Ready to get in touch?
To learn more about how Inspired Results can help you reach your goals, simply fill out the form below and we'll reach out to you!
Start a conversation
Inspired by what you see? Fill out our form, and we'll get back to you ASAP.