Inspired Results named "2017 Best of Print and Digital" Winner!
Our mission is loud and proud at Inspired Results: in everything we do, we strive for Partnership—meeting our clients' needs through creative solutions and constant dedication each step of the way. While improving the health of our clients' businesses is satisfying on its own, we feel especially proud when others recognize it too: we think of this as Defining by Results.
With this in mind, we're beaming with pride after recently receiving a prestigious award: Inspired Results has been named a 2017 Best of Print and Digital Winner!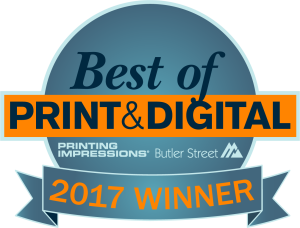 The Best of Print & Digital is an annual program identifying the companies that have provided the highest service delivery to their customers over the last year. Only the very top companies in the industry achieve this distinction, and Inspired Results is honored to receive this award!
The presenting organization of the award, Butler Street, is a management consulting and research firm that specializes in client and talent development. Says Mike Jacoutot, Butler Street's founder and managing partner:
"This year's winners have raised the bar higher for the industry. They have proven the difference that exceptional customer experience makes and as a result, are poised for increased client loyalty and future profitable growth."
Recognized for client loyalty and growth
At Inspired Results, we put people first. While we believe it's simply the right thing to do, we also know that empowering our employees and supporting our clients brings extraordinary results.
This philosophy is part of what led to our title as a Best of Print and Digital Winner. Inspired Results and our fellow winners were selected based on our Net Promoter Score® (NPS) – which has been widely regarded as the most accurate leading indicator of client loyalty and future revenue.
We couldn't be more thrilled to be recognized for client loyalty and growth—we believe that striving for these metrics should be a main strategic goal.
Says our client, Nelia Bezuidenhout from Expedia, Inc., "The Inspired Results team pays an incredible amount of attention to detail and always delivers quality beyond what is expected. I appreciate their kindness and understanding, and always-open communication."
A bright road ahead in 2017
Becoming a Best of Print and Digital Winner was a fantastic way to kick off 2017—and sets us up for success in this coming year! Together with our team, we're building even more robust, solution-based systems, and expanding our capabilities to serve our clients. We give a heartfelt "thank you" to all of our team members, clients, and partners for setting us on this exciting path.
Want to learn more about our approach to client success? Read more about how we strive for partnership.