Understanding N95 + KN95 Masks
Is your face mask approved for use in a healthcare environment?
There are a lot of questions and uncertainties facing healthcare organizations right now regarding personal protective equipment (PPE). This is especially so for face masks and respirators given the limited supply and need to import products internationally. Daily we're helping clients answer similar questions to one another:
What rating is approved? I thought KN95 masks were good, why are they not now? Who is authorized to manufacture masks for my work environment?
This post is intended to help sort out all these questions…and more! Read on to get the full picture on authorized masks, or if you're just looking for a quick answer on whether your facepiece supply is ok to use in your healthcare environment, check out our simple decision tree download: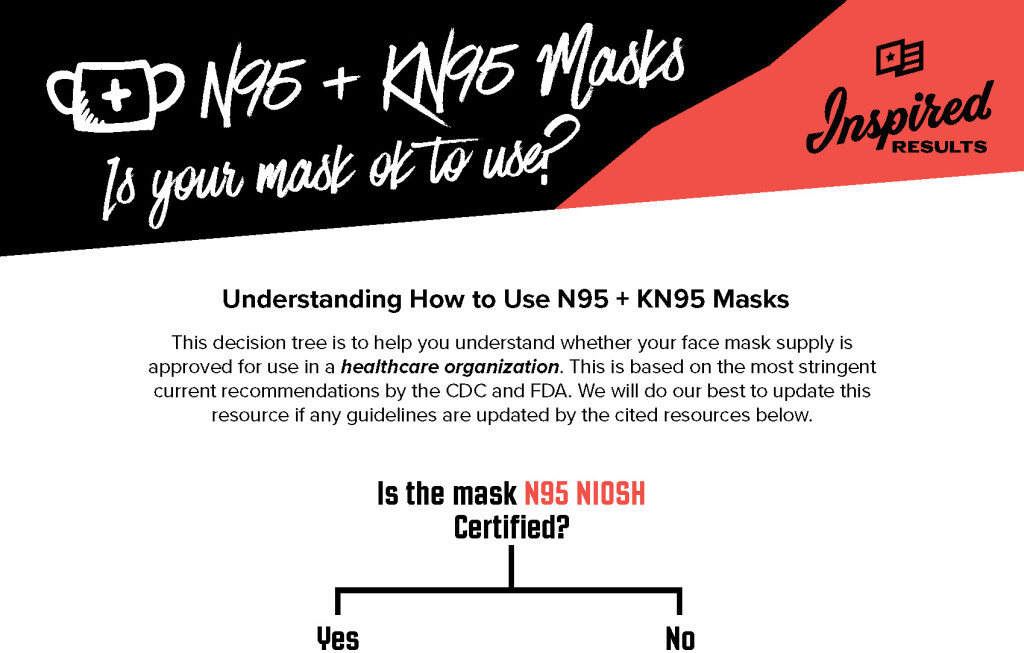 Over the last few weeks the FDA has been evaluating available personal protective equipment (PPE). Last week they released a statement modifying some of their previous recommendations based on new testing of available products.
The revised FDA recommendations are specific to healthcare environments. The below FAQ aims to help answer some of the common questions surrounding face masks and respirators for healthcare organizations.
Click the question below to expand more details
Why was there a change in KN95 mask authorization?

The National Institute for Occupational Safety and Health (NIOSH) is conducting ongoing testing of available PPE products on the market. Recent test results showed that several products previously approved did not meet the minimum particulate filtration efficiency of 95 percent.
Is there an easy indicator to check if my masks and respirators are approved to use?

The gold standard for facepieces and respirators is an N95 NIOSH certified facepiece. Masks that have been certified by NIOSH will have two clear indicators on the product (see image below for reference):

NIOSH Name or Logo: You will see "NIOSH" in block letters or with the NIOSH logo (as seen in the image below).
TC-Approval Number: For products manufactured after 2008, the TC-Approval number is required to appear on the product. You can verify this number on the NIOSH List of Approved Filtering Facepiece Respirators or on the NIOSH Certified Equipment List.
What if my mask does not have the "NIOSH" name or logo or the TC-Approval number?

There are several options if your supply does not have this exact rating. You can verify the efficacy of a product through the resources listed below:
What if my masks are not listed on any of the currently approved product lists?

You can submit a small sample of your product to verify its efficiency. The results will not yield a NIOSH certification, but will validate whether your masks meet the efficiency criteria claimed on your packaging.

You can find more information about testing here:
NPPTL Respirator Assessments to Support the COVID-19 Response
What manufacturers are approved by the FDA?

The FDA recommends following the list of NIOSH-approved N95 masks and respirators as listed on the CDC's website.
What does "NIOSH certified" mean?

NIOSH (National Institute for Occupational Safety and Health) is the United States federal agency responsible for conducting research and making recommendations for the prevention of work-related injury and illness.

NIOSH certified masks, respirators and facepieces mean that the product has been tested and confirmed that it meets the filtering efficiencies noted in the product's rating (example: N95 meets a minimum 95% particulate efficiency level).
I don't work in a healthcare setting; do I need an N95 or KN95 mask?

Due to limited availability of approved PPE products for the healthcare industry, the CDC has provided guidance that non-healthcare employees and citizens use alternative protective measures including cloth face masks, social distancing, washing hands, and regularly cleaning and disinfecting surfaces to conserve and extend the availability of approved masks for healthcare professionals.